3 THINGS THAT WORLD CAN HELP!
1. Boycott Thailand Holidays.
Tourism in Thailand provides the dictatorship with millions of dollars every year, while the development of tourism has escalated human rights abuses.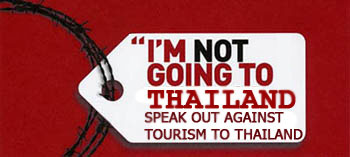 "Thailand will be here for many years, so tell your friends to visit us later. Visiting now is tantamount to condoning the regime."
Since the junta group have ruled the country, automatic machine gun are in every corner, Thai anti-coup group are very active against the junta. If you choose to vacation in Thailand, you may find yourself to be in the middle of cross fire between anti-junta and the junta.
REMEMBER: Martial Law (Junta) is active in all areas.
"YOUR VACATION IN THAILAND COULD COST YOU YOUR LIFE"
2. Boycott Thailand Products.
All supports of Thai's products will provide million of dollars to Thai's dictators and military junta group. STOP the junta party, right now!
Thai's product are
- Rice (Mostly Justmin Rice)
- Frozen products (Chicken, Shrimp, seafoods)
- Canned products (Tuna can, Fruits can, Coconut milk can)
- Rubber (Automobile Tire)
Please looking for "Made in Thailand" or "Product of Thailand" label
Of you not sure, please ask the reseller or manufacturer
"STOP BUYING ALL MADE IN THAILAND PRODUCTS"
3. Sanction by stop all aid supports to Thailand.
Since the US has cut military aid supports(24 million dollars annually) to Thai military (Junta Group), the junta group have not had enough money for their party and corruptions.
...They are so need money for their wealth... YES, your aid cash will disappear without trace.
"STOP OR HOLD ALL AID MONEY TO THAILAND"
Below the sanction response from US government regarding Thai's coup
From BBC News
The United States has imposed sanctions against Thailand in response to the military coup which ousted civilian Prime Minister Thaksin Shinawatra. The move involves cutting off $24m (£12.8m) in military assistance, according to the US state department.
http://news.bbc.co.uk/2/hi/asia-pacific/5390284.stm
*******************************************
Press Release from White House, United State of America
For Immediate Release
Office of the Press Secretary
October 3, 2006
Statement on Thai Coup Developments

We have noted the appointment of an interim Prime Minister, Surayud Chulanont, in Thailand, and the promulgation of an interim constitution. We remain concerned by restrictions on civil liberties, provisions in the draft constitution that appear to give the military an ongoing and influential role in decision-making, and the lengthy timetable for democratic elections.
Following the implementation of Section 508 sanctions last week, we are assessing additional next steps to be taken. We call for clear and unambiguous protection for civil liberties by the interim authorities and the military, and a quick return to democratic elections. Thailand's image in the eyes of the world and U.S.-Thai relations will suffer until Thailand returns to its place as a democratic leader in Asia.
# # #
http://www.whitehouse.gov/news/releases/2006/10/20061003-5.html
---